Personalize Your Audi with Audi Cuyahoga Falls's Genuine Audi Accessories
Although your white-picketed, four bedroom abode may suit your lifestyle, it's not 100 percent yours until you transform it from a house to home with personalized precision. Drivers face a similar reality when it comes to their cars: accessories separate your car from others like it on the road.
At Audi Cuyahoga Falls, a Cascade Audi dealership, we don't want you to ever lose interest in your new Audi; we want to ensure it's able to address your needs and suit your personality now and years down the line. That's why we always encourage our new Audi drivers to explore our genuine Audi Accessories.
The benefit to accessories is that they are interchangeable. Whether you've lost interest in your grille inserts or want to swap out those all-weather mats at winter season's end, accessories allow you to keep up with an ever-evolving lifestyle.
And not only do we host an extensive and diverse Audi Accessories selection but provide genuine accessories, meaning what you purchase is built particularly for your Audi model. Much like our genuine parts, these accessories are of high quality to help retain your Audi A4 or Audi Q7's premium feel.
Peruse our current selection and then see what accessory specials we have available. Once you've found the gadgets and gizmos you wish to blanket your Audi model in, either join us in Cuyahoga Falls or schedule an appointment with our service center. With their help, you can get your ride looking like a complete mobile extension of your personality and do so at great prices, courtesy of their service specials.
Make the short trek over from Cleveland, Akron, Bedford and Canton to take advantage of all the great Audi Accessory opportunities available here at Cascade Audi today.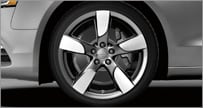 Audi Genuine Alloy Wheels.
Profiles in beauty.

Strike the perfect balance between breathtaking
design and awe-inspiring performance with Audi Genuine Alloy Wheels.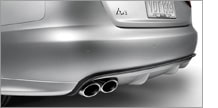 Audi Genuine Sport and Design Accessories.
For your eyes only. And everyone else's.

Audi vehicles feature a bold, aggressive stance with stunning, strong lines. Express your own style by adding Audi Genuine Sport and Design Accessories.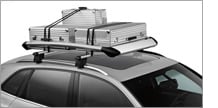 Audi TravelSpace Transport Accessories.
Adventure awaits.
You go everywhere. Never leave the necessary
gear behind. Bring it with Audi TravelSpace
Transport Accessories.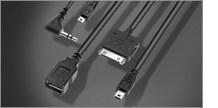 Audi Genuine Electronics Accessories.
Sheer brilliance. Day and night.
The illuminating technology that graces Audi vehicles provides the inspiration for Audi Genuine Electronics
Accessories. Similarly, all of these accessories are impressively advanced and inspiring.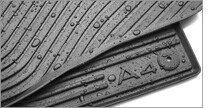 Audi Guard Comfort and Protection Accessories.
Smooth roads ahead.
Protect what you love. Audi Guard Comfort and Protection Accessories offer functional, practical items that help keep Audi vehicles in pristine condition.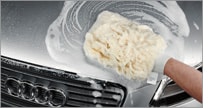 Audi Guard Car Care Products.
Driven by perfection.
The only car care line specifically designed for Audi, Audi Guard Car Care Products provide gentle cleansing formulas and special tools to help give all interior and exterior surfaces the finest in cleaning and protection.  
Contact Us About Audi Accessories: