2023 Audi A4 - Cascade Audi
The Audi A4 slots in as a compact but deceptively roomy sedan. The Audi A4 makes for a great solo cruiser or compact family hauler thanks to its well-rounded set of comfort, tech, safety, and performance features. The new Audi A4 is available to drivers in three trim levels: Premium, Premium Plus, and Prestige. Along with the three trim levels, drivers can enjoy two engine options. Regardless of the trim selected, drivers can look forward to modernly capable and classically reliable luxury sedan.
What's new to 2023

---
The 2023 Audi A4 sees a handful of minor tweaks but refrains from making any major changes. Simply put, the 2023 Audi A4 is more or less a carryover from the previous model year.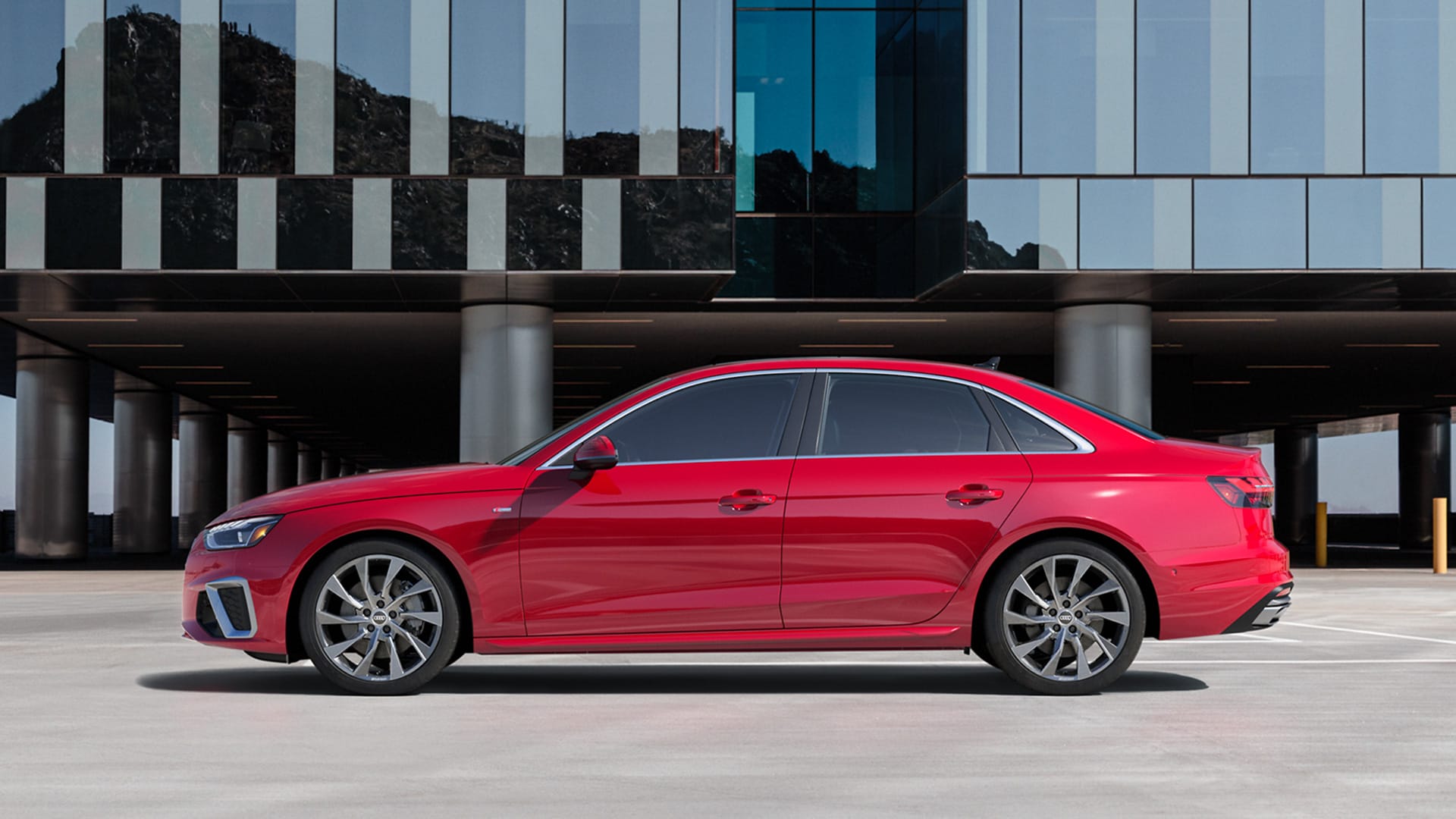 Stress-Free Car-Shopping
the Audi A4 makes two engines available across its three trim levels. The standard engine that comes with the Audi A4 is a 40 TFSI engine (2.0-liter 4-cyliner turbocharged) that makes 201 horsepower and 236 pound-feet of torque. If you're interested in upping the power, then the Audi A4 offers up a 45 TFSI engine that makes 261 horsepower and 273 pound-feet of torque. All engines work with a 7-speed dual-clutch automatic transmission and all-wheel drive. Additional performance features can be had by option for certain trims and packages. The 45 TFSI version of the Audi A4 comes with 18-inch wheels and a sport suspension with lower ride height.
Want to Talk Auto Finance?
Staying entertained and connected can be a breeze thanks to a modern set of standard and optional tech features. The Premium base trim comes equipped with robust tech offerings like a 10.1-inch touchscreen display, Apple CarPlay/Android Auto, Bluetooth connectivity, and a basic audio system. The Premium Plus trim adds a seriously impressive set of tech features. The Premium Plus trim replaces the standard audio system with a 19-speaker Bang & Olufsen sound system along with a digital instrument cluster, and rear USB ports. There's an optional set of tech offerings with the Premium Plus trim, which includes a navigation system and Audi Connected Services. The top-level Prestige trim comes with a head-up display.
Stress-Free Car-Shopping
The A4 doesn't skimp on comfort and convenience, ensuring a robust set of luxury features. The Premium trim comes with leather upholstery, heated front seats, a sunroof, seating for five, and plenty of trunk space. The 45 TFSI variant of the A4 gains front sport seats. The optional Convenience package comes with keyless entry, a heated steering wheel, increased driver assistance features, and driver's seat memory settings. The S Line interior package gains aluminum interior trim and faux leather/suede combination upholstery. The Premium Plus trim takes thing up a notch by adding armrests with faux leather and all the features that come with the Convenience package. The Premium Plus trim comes with ventilated front seats while the Prestige trim gains sound-reducing front side windows, ambient interior lighting, and heated rear seats.
Want to Talk Auto Finance?
Safety features are quite robust, with all trim levels coming with a suite of driver assistance features. The Premium trim comes with forward collision mitigation and lane departure warning. The Convenience package adds blind spot monitoring with rear cross traffic alert, front/rear parking sensors, and adaptive cruise control. The Premium Plus trim allow for lane departure mitigation along with a surround-view camera system. The top-level Prestige trim adds a head-up display and an automated parking system. Classic safety equipment includes airbags and seat belts.
Schedule a 2023 Audi A4 test drive
How can we help?
* Indicates a required field